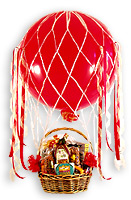 EXTRAVAGANZA!, specializing in corporate gifts and event balloon décor, is located in the West Phoenix Valley of Peoria, AZ.
Make any special occasion an EXTRAVAGANZA!, whether it's a gift basket for one or a celebration for hundreds.
EXTRAVAGANZA! Owner, Roberta (Bobbie) Rodgers is a charter member of the Qualatex Balloon Network, and was one of the first 200 people worldwide to earn the CBA (Certified Balloon Artist) credential.
   EXTRAVAGANZA! Services:
Customized gift baskets and balloon décor to your needs
Imprinted balloons and ribbons with name or logo
Handmade bows - special color requests are welcome
Gift enclosure cards printed using a calligraphy font for special added touch
All major credit cards accepted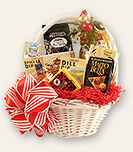 We offer a great selection of gift baskets for every occasion, whether you need a special basket to say thank you or congratulate an employee who's been promoted.
Click here to view.

Extravaganza! makes your event special with custom balloons, centerpieces, and event decor.
Click here to view.
EXTRAVAGANZA!
provides worldwide shipping for baskets and local delivery for balloons and baskets.
To Order Call 888-XTRAV 4 U

(888) 987-2848